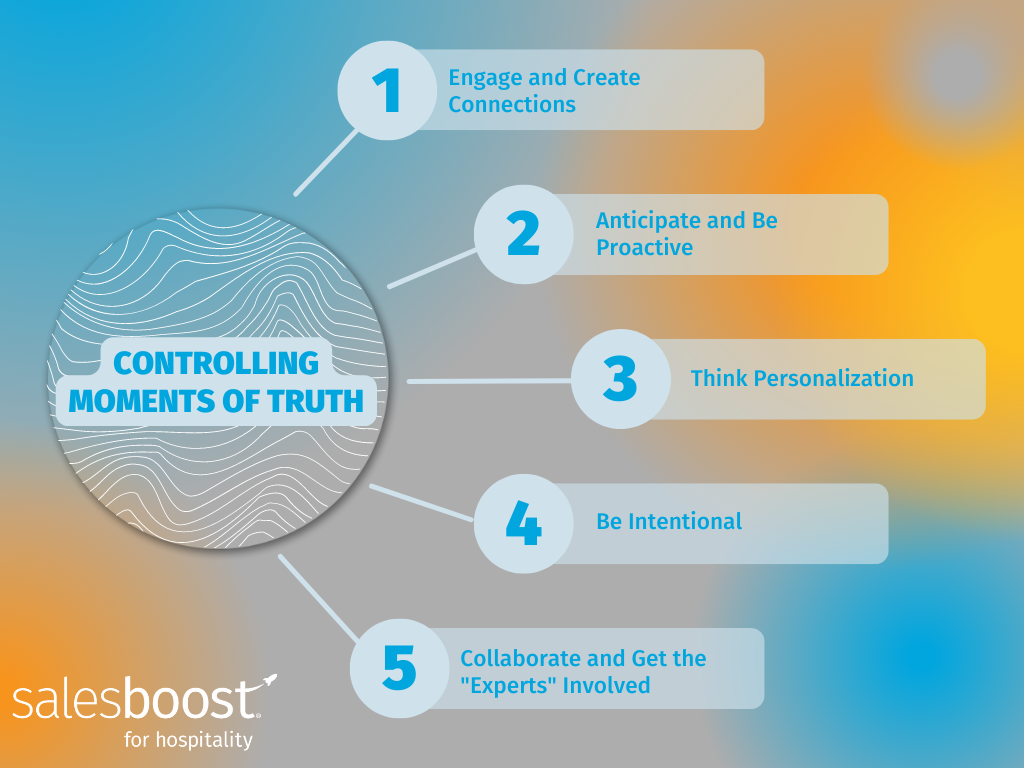 We can never place too much emphasis on our guests and customers. They are the foundation of any business' success. One of our primary goals should be to Control the Moments of Truth. To do this, we must be proactive and learn how to anticipate our guest's needs to ensure greater satisfaction and increase the goal of repeat business. The question is, how do you proactively anticipate what our guests need? There are three practices to keep in mind in order to be proactive and exceed your guests' expectations:
1. Get Engaged & Create Connections
2.
Think Personalization & "What's in it for me?"
3. Increase Your Guest Intensity
Get Engaged & Create Connections
Surprise - This all starts in your training! Often times, we default to the step-by-step instructions or manuals that are introduced during training to be sure we cover all topics with the customer. We all want to prove ourselves to our colleagues and not miss a beat. However, reading straight from a form or a step-by-step document can prevent you from being truly engaged in the conversation.
Active Learning
and Customer Engagement will allow you to get a better feel for the customer's unique preferences AND increase your chances of anticipating their needs. At
SalesBoost
, we have a dedicated
learning series for Front Desk Professionals
that covers this important topic and more! If you succeed at creating a connection, the customer will feel that you have their best interest in mind and they will be taken care of. Building that connection from the start will allow you to better understand WHY they are at your hotel and what types of features or amenities might be important to them.
Think Personalization & "What's in it for me?"
When working in the hotel and hospitality industry, you come to learn that guests stay at hotels for multiple reasons. Think of the different reasons you have stayed at a hotel and how you may have been treated and tended to differently because of it. I have personally stayed at a hotel for both business and personal time. The information I was provided upon arrival for these stay reasons were very different. For example, for business, I was provided breakfast and shuttle times. For personal, I was provided pool and spa hours. There was a distinct difference in my needs at the time and they were addressed appropriately because the hotel associate identified what type of guest I was. Being able to identify what type of guest you are working with will allow you to better anticipate their needs.
Set Up My Hotel
provides a list of possible needs you can anticipate for the following travelers:
Increase your Guest Intensity
Let's get back to the basics! Beyond being able to identify what type of guest you are working with, there are basic needs that all staff should be aware of and able to identify in advance. Some of these needs do not apply to any specific type of guest but should be seen as a universal practice for being proactive and anticipating needs.
DC Blosser Update
put together a list of the top 10 times you should be able to identify a guest's needs.
Top 10 Times to Anticipate Needs
1. Whenever a guest arrives, assume he/she would appreciate assistance with luggage.
2.
When checking in first-time guests, assume they will be having dinner, so offer ideas for good restaurants (especially yours).
3. When a business-type guest arrives late in the evening, offer a wake-up call and if possible, late-night in-room dining menu options.
4. A family with children might really appreciate a ground floor room by the pool.
5.
If a guest walks through the lobby with a question mark on his/her face—greet them politely and offer directions.
6.
If a guest asks for an extra packet of coffee (or another amenity) leave extras when making up the room for the second night.
7.
When a guest calls for luggage assistance to check out, offer to have a valet-parked vehicle delivered.
8.
Offer to arrange a shuttle to the airport for a business-type guest without a valet-parked vehicle.
9. When a guest is driving on a hot day, offer a bottle of water.
10. A "WOW Moment" would be to remember a guest's name and their previous request and have it in the room on the next visit.
Being proactive and anticipating the needs of your guests is the "above and beyond" service they wish to have. This will increase the chances of guests returning to your hotel, as well as recommending your hotel - WIN! We all know, it's the little things that add up and mean the most. So, avoid step-by-steps and turn on a learner's mindset. Develop an active learning approach and make customer engagement your #1 priority! Check out the link below for relevant and helpful content!
Want to take this info even further?