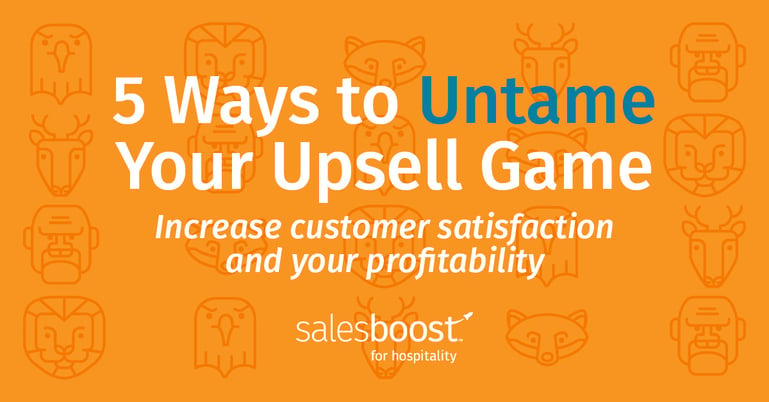 Lions, tigers, monkeys, elephants…the zoo is a magical place! From exotic animals to the sights and sounds of the jungle, to the Sahara and the Great Barrier Reef, kids young and old stand in awe of these majestic creatures and more. Until this past weekend, it had probably been 15 years since I've been to the zoo. And I can promise you, back then, I was not thinking from a business perspective. But you know what's funny…the zoo is a BIG business! And you know what the zoo really excels at? Upselling!
I was shocked! Never expected the zoo to be the master of upselling, or when you think about it, any amusement park, carnival or attraction for that matter. They all excel at upselling! So as hoteliers, why shouldn't we think like these attractions?
Stingrays and Train Rides:
You arrive. You pay to park (part of the gig), pay the admission (knew it was going to happen), make it through the turnstile (finally!), and what's the first thing you see? The entrance to the train. Then the sign to pet stingrays. Both of which are additional charges. How can you miss out on these magical opportunities? What are the "can't miss" offerings at your property? A multi-course culinary experience, historic suites, one-of-a-kind interactive menu options? Find your "Pet the Stingray" experience and tell your clients about it! Make them believe they cannot live without having the added experience at your hotel.
"Lettuce" make this better for you:
What's better than watching? Participating! As we stroll through the exhibits and watch the animals, you keep getting the urge to get closer. If only you could just pet them! Next thing you know, there's lettuce for sale to FEED the giraffes! If you buy the lettuce, you can walk right up, feed them by hand, and pet them. The parrot exhibit has seed sticks to buy and the petting zoo has feed for purchase. All of these points of sale ENHANCED the experience to create memories and price becomes less of a concern. Where are these opportunities in your hotel? As you review an agenda for an event, what are ways it can be enhanced to elevate the experience? Instead of offering a healthy break, make the healthy break experience from sight, sound, touch, and smell – along with taste – be a part of the enhancement. From the display of the food or the infusions in the beverages, get creative and think about how little details and innovative enhancements can be your "lettuce" experience. Even small things can make a huge impact.
Popcorn! Get your popcorn here!
Much like any attraction, food is everywhere! Cotton candy, Dippin' Dots, corndogs... people have to eat, it's a given. What makes these things so exciting is A) location and B) it's part of the experience. From themed names to creative serving ware to the giant souvenir cup, it's the experience AND it's right there when and where you want it! What are some ways you can work with your culinary team to put F&B at top of mind? Theme your meetings and events. Create an environment that creates a memory or perhaps provides them with a memento or take-away. Serve items in non-traditional ways. Focus on creating a "feeling" or a "moment" with every meal or break.
Be a part of the adventure:
Safari hats, princess wands, and animal masks are other aspects that make you feel like a part of the adventure. This is your world! And what makes that even better... the photos! Whether it's photo ops with giant statues or cut-outs, or the "action-shot" photos after a rollercoaster, these elements capture the moment and preserve the memories. What are unique photo ops at your hotel? How can you layout an event to provide the best photography? What about costumes? Can your staff dress to be part of the theme? Become part of the adventure with the guests! SnapChat is a great way to accomplish all of these in a very easy and inexpensive way. Take a look at this cool way of customizing a SnapChat filter for your venue or event to create a fun and active way for attendees to enjoy themselves and promote your location!
It's not over til it's over and a THANK YOU lasts forever:
Whether it's the zoo or other attraction, one thing you almost always see is the exit through the gift shop! One last chance to grab that souvenir or t-shirt or photo that will top off the day! Your experience won't be the same or as memorable without that stuffed lion or key chain. Think about your events from start to finish, until the last attendee is out the door. What are ways you can top off the experience during their event or with their departure? What is their "last memory" of the event and your hotel that you can add-on and enhance to help make your attendees have an outstanding experience and make your event planner look fantastic? Thinking all the way through from pre-arrival to their departure will not only set you apart from the competition but leave a lasting impression with your guests! Don't forget the power of a Thank you. Thanking the attendees and your client for staying with you, ensure your entire team extends their gratitude as well. Most importantly, be sure to write a hand-written note to remind your client how much you truly appreciate them and their business.
Some events may feel like a zoo (or a circus). However, if you view your events and meetings as attractions and way to gain more fans or followers, you can continue to think of new ways to elevate and provide a "magical" experience for your clients and guests every time! Go wild!